21/06/2018 Progress Report
---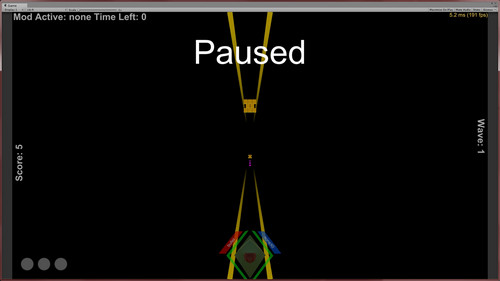 What's Working/Changed:
Fixed that script so now all objects respond to getting hit.
Set up a system that spawns boss fights. There's only one in there at the moment though.
Set up a thing that displays story text during checkpoint rounds. Needs tweaking as it currently takes up too much real estate and can obscure things on the screen.
You can now pause the game.
Various tweaks and changes.
What I Need To Work On:
Visual feedback for objects being destroyed.
Textures and shaders for the models.
Continued 3D modelling.
Visual feedback from the HUD on various things.
Making more levels.
Boss fights.
Other Things I'm Doing:
HUD design.
Sound and Music.
Controller support.
On-Hold:
Loading enemy, weapon, and boss types into the content creator.
Saving and loading for the content creation system.
Pause menu options.
Graphics/Gameplay/Sound options.
Future Things:
Art assets.
Saving/Loading.
Main menu stuff.
Difficulty levels.
Bonus stuff.
A Few Other Words:
I have decided to give up on trying to make a new demo for the next Demo Day in favour of releasing a new one with more robust and finished content. Particularly with some newer and more finalised art.
Anyway, I've added a system to put bosses in the game, with additional art and scripts that should trigger when they appear. The first boss is pretty simple though.
I added a way to pause the game and started adding some stuff for a menu to alter various options, but decided to put it on hold because I'm not sure what to add to those menus and Unity's UI stuff was giving me a headache.
I've been doing some research into shaders and will probably be jumping into that type of stuff soon. I'm not sure what to tell you to expect, it's been a while since I did anything shader related, but at least my models won't look like placeholders by the time I'm done. I hope.
Get Bullet Hell Lane Shooter